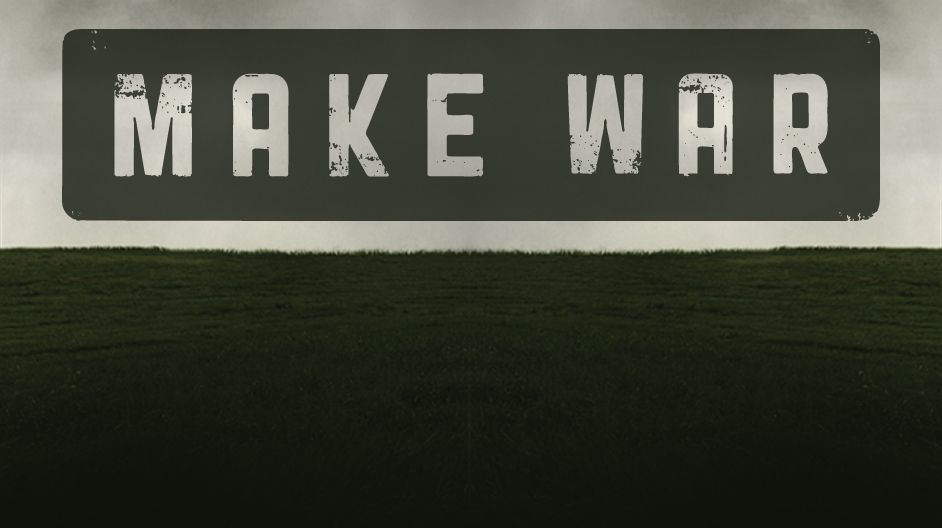 "And the Philistines stood on the mountain on the one side, and Israel stood on the mountain on the other side, with a valley between them."—1 Samuel 17:3
Two mountains. Two camps. Two sides. There's no middle ground; the battle is going to happen in the valley in between. Are you going to run and hide? Or stay and fight? It's time to MAKE WAR!!
This Sunday, we begin our new MAKE WAR teaching series.  Our normal Sunday schedule will resume with service at 9:30a & 11:00a.  We can't wait to see you and Pine Ridge Church as we kick-off 2013 with a bang.
Take a minute and read this note from our Pastor:
Sunday, we begin a new teaching series at Pine Ridge Church titled, Make War. I'd ask that in preparation you read 1 Samuel 17:1-11 and come ready. I honestly believe that God has something HUGE in store for you during this series and I don't want you to miss any of it.
I'd also ask with this new year, that you and your family make a decision to re-prioritize your commitment to church. Take some time to evaluate your life, your values, your priorities and clear some space. God has something great in store for our church this year and you and your family are so valuable in seeing God's plan come to fruition. Don't let the "good" extracurricular activities distract you from the "great" things God has for your life. Parents, teaching your kids that God is the #1 priority and everything else takes a back seat is 100% hinged on what they see you actively living out. I pray you own that responsibility this year like never before.
I believe one of the greatest detriments to the Christian life is not being an ACTIVE member of God's church. Don't make a resolution to do better this year… make a commitment! Make a commitment to God, to your family, to yourself, and then discipline yourself to make it a priority.
I can't wait to see what God has for us in 2013! I believe it's going to take all of us to get it done. Hold on, because it's going to be an exciting adventure!!
I love my church.
I love each and every one of you.
See you Sunday.
-Pastor Tadd